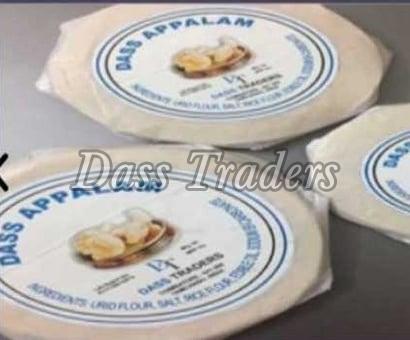 Papad is undoubtedly the most common food item consumed by Indians across regions. It is known by different names in different regions of the country. Papad typically in North India becomes Appalam in Tamil Nadu, 'Apadam' in Andhra Pradesh, 'Happala' In Karnataka, it is called 'happala'. Ingredients and taste varies as per the local preference of the people. This thin, crispy, round shaped, disc like food item is made from different ingredients such as rice, potato, lentil flours – like black gram flour, chickpeas and even tapioca, other vegetables. Methods of cooking also vary depending upon the taste of the people.
Earlier, it was eaten plain but now modern food lovers prefer it with chutneys or dips, or even topped with vegetables and cheese. People across the nation relish papad and with the changing taste buds, this traditional papad is now served as Masala Papad at most of the places.
The Appalams of Tamil Nadu are usually made of urad dal and they do not have any added spices. These plain salty Appalam are well fried, roasted and microwaved like their North Indian counterparts. Appalam has been an integral part of Indian Cuisine in every household as a part of their meal or as an appetizer. The size of these South Indian papads is quite big at 5 inches in diameter and their most striking difference is their texture and color. These are in light tan colour, have a very smooth finish and a delicate crunch. These crispy appalams are loaded with protein and fibre which are easy to digest.
The market for papad is increasing at a great pace as it enhances the taste of any meal while carrying some nutritional values. India has a wide variety of papads which has a growing demand in the overseas market as well. Every state has a different style of papad which depicts its culture, lifestyle and traditional flavours. Papad making business links well with women empowerment in India but now it has been developed in small scale industry with increasing demand. India is an abode of many salty plain Appalam papad manufacturers in order to satisfy this sprouting demand.
They have a well equipped infrastructural facility with modern machines and fully automated production lines.
They manufacture appalams from high-grade ingredients that guarantee their optimum quality.
They have an in-house quality testing unit to check the quality of each and every batch before the dispatch.
They use high quality packaging material in order to avoid breakage during the transit.
They offer superior quality appalams which are unadulterated, crispy, rich in fibre and free from harmful preservatives or chemicals.
They offer delectable appalam papad in the market at cost effective prices.
Thus, it can be concluded that papad enjoys a significant position in Indian Cuisine as an all time companion. It is one of those food items which are extremely popular and remains in demand throughout the year.
This entry was posted on February, 05, 2022 at 18 : 05 pm and is filed under Appalam Papad. You can follow any responses to this entry through the RSS 2.0 feed. You can leave a response from your own site.